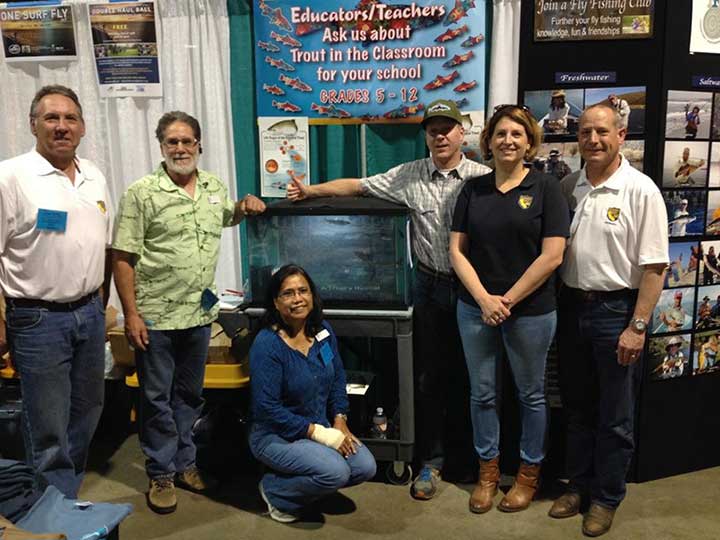 The Fred Hall show allowed many esteemed allies to come together and talk fish! In this photo:
Dan Yparraguirre - Deputy Director California Department of Fish and Wildlife
Michael Schweit - SWC President
Melinda Burns – Trout in the Classroom Coordinator
Chuck Bonham - Director, California Department of Fish and Wildlife
Jordan Traverso - Deputy Director of Communications
Stafford Lehr - Chief, Fisheries Branch
---
Southwest Council IFFF supports and funds many schools from San Diego to San Luis Obispo and inland to Mammoth Lakes. Our clubs work hand in hand with the California Fish and Wildlife. As partners we provide training, equipment and volunteers to teachers and schools. Both public and private.
Trout in the Classroom (TIC) is an environmental education program in which students in grades k-12 . . .
Raise trout from eggs to fry.
Monitor tank water quality.
Engage in stream habitat study.
Learn to appreciate water resources.
Begin to foster a conservation ethic.
Grow to understand ecosystems.
Clubs volunteer in classrooms in support of aquariums and the equipment
Clubs give students the opportunity to cast fly rods and tie flies.
During the year each teacher tailors the program to fit his or her curricular needs. Therefore, each program is unique. TIC has interdisciplinary applications in science, social studies, mathematics, language arts, fine arts, and physical education. The program includes field trip to local stream or lake to release the trout raised in the classroom.
In the past year the partnership between the Southwest Council and California Department Of Fish and Wildlife grown by leaps and bounds making this a very good time to become involved in Trout in the Classroom/ California Aquarium Education program.