Debbie Sharpton, Conservation Director
(805) 338-8278; This email address is being protected from spambots. You need JavaScript enabled to view it.
HELP OUR NATIVE FISH
Volunteers and funding are needed to sustain a Lahontan cutthroat trout (LCT) recovery project in the Western Lahontan Basin (Truckee, Carson and Walker River watersheds). With seed funding provided by Sierra Pacific Flyfishers, interns and volunteers will be on Silver Creek (headwater tributary of the West Walker River, Pickel Meadow area) late July to late September 2013 removing non-native predatory brook trout from a LCT recovery area.
THE SOUTHERN CALIFORNIA FLY FISHING CLUBS ARE WORKING TOGETHER TO SAVE THE LAHONTAN CUTTHROAT TROUT

Please consider volunteering this summer. A base camp will be set up along Silver Creek and a team of 4-5 people will assist CDFW with electrofishing. The goal of this multi-year activity is to eradicate non-native brook trout so the stream can sustain a currently imperiled population of LCT. CDFW will open the stream to angling when the brook trout have been removed.

Please consider making a donation to sustain the interns when volunteers are not available. SWC-IFFF has set up a special account for the LCT Recovery Project.
Lahontan Cutthroat Trout
(Oncorhynchus clarkii ssp. henshawi)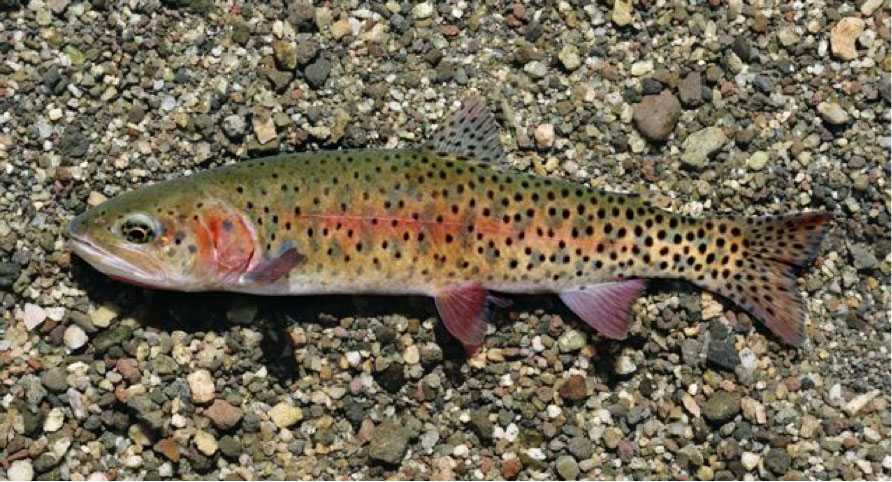 Photo credit — Michael Graybrook
LCT, a federally-listed Threatened species, evolved in the absence of other trout, and they are highly susceptible to hybridization and competition from introduced trout species. Nonnative trout has caused the majority of LCT population extirpations since the mid 1990's. Prior to then, dams that blocked access to spawning habitat, water diversions, and non native trout all contributed to the decline of LCT within the Lahontan Basin.
LCT historically occupied large freshwater and alkaline lakes, small mountain streams and lakes below waterfalls, small tributary streams, and major rivers of the Lahontan Basin of northern Nevada, eastern
California, and southern Oregon, including the Truckee, Carson, Walker, Susan, Humboldt,
Quinn, Summit Lake/Black Rock Desert, and Coyote Lake watersheds.
Probable historical (blue) and currently occupied (yellow) Lahontan cutthroat trout habitat separated into the Eastern, Northwest, and Western Lahontan Basins. Out-of-Basin populations are not depicted on this map. (Excerpt from the USFWS LCT 5-Year Review, 2009)
default 1995 USFWS Lahontan Cutthroat Recovery Plan (6.48 MB)