Our 3rd Casting for Recovery SoCal Retreat for Breast Cancer survivors was amazing. The participants had so much fun learning to tie flies, cast, and learning bugs! Their enthusiasm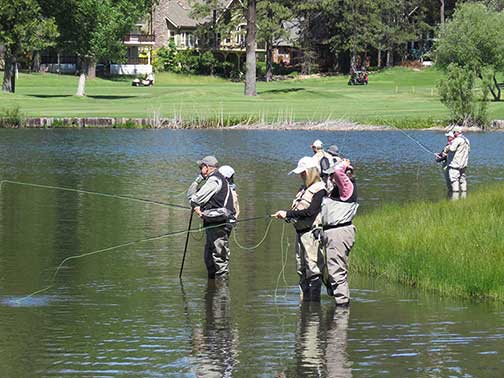 was contagious. These women came to the Retreat not knowing what to expect and most had never fished let alone fly fish. They shared stories of their recovery and their challenges while learning the many aspects of fly fishing. The highlight of the Retreat was getting into the water on Sunday morning and fly fishing. Each participant had their own water helper to guide them as they cast their rod. Though the only fish caught was a tadpole, the excitement of the catch was still contagious.
Participants wrote...
"I left with a whole new outlook and feeling that I will be ok"
"Miss everyone still basking in the afterglow"
"I can't even begin to tell you how filled my heart is right now"
When the water helpers gave the participants their new rods there was not a dry eye at lunch. The women were so touched by the support and compassion shown to them by all the volunteer staff and water helpers.

We can not thank all the clubs enough as their support helped create the Retreat, from the water helpers that represented many of the Southwest Council Clubs to the clubs that purchased the rods, donated fly boxes and provided donations.
This Retreat does not happen without the all the support and generosity of the Fly Fishing Clubs, individuals and the community.

Thank you, Thank you, Thank you